CEHD Happenings
Dean's Newsletters & Communications
2021
2020
Winter 2021 Commencement
Winter Commencement Ceremonies were held December 16 and 17, 2021.
Founders Day
The event was held on February 17, 2022. Retirees with at least 15 years of service, employees with 25 years of service, and department and faculty and staff award winners are recognized at the banquet. The following CEHD faculty, staff and departments received awards:
The UND Award for Departmental Excellence in Research and Creative Activity
Department of Education, Health & Behavioral Studies
UND Award for Excellence in Online Course Development & Innovative Teaching Strategies:
Cerynn Desjarlais, Clinical Assistant Professor, Counseling
25 Years of Service Awardees
Karen Harrie, Online Admissions Secretary, Department of Education, Health & Behavioral Studies
Kim Keeley, Financial Manager, College of Education & Human Development
Patricia Mahar, Associate Professor, Teaching, Leadership & Professional Practice
Retirees
Gail Ingwalson, Association Professor, Associate Chair, Teaching, Leadership & Professional Practice
Homecoming 2022: September 26 - October 1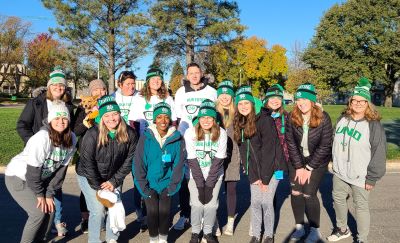 2022 CEHD's Homecoming Schedule of Events
Float Decorating
All supplies provided. Come when you can, leave when you need to. Your energy, enthusiasm & ideas are all welcome! Dates/Times TBA
Student Trivia
Relax, have fun, and win prizes at trivia. Dates/Times TBA
CEHD Initiatives
Find out about the exciting new initiatives happening within the College.
Email Lesli Riskey to request to join the meeting virtually. Dates/Times TBA
Scholarship Award Ceremony
for the CEHD Scholarship recipients, their family, faculty, and our generous donors
Email Lesli Riskey to request to join the meeting virtually. Dates/Times TBA
Homecoming Parade
10/01/2022 (Saturday) | 9:45 a.m. - 12 p.m.
Graduate Research Appreciation Days
UND's fourth annual Graduate Research Appreciation Day brings in more partners and diverse schools of thought. Three UND graduate students are mentioned in this story, two of which won in the Professional, Social Sciences, Humanities and Arts category.
GRADUATE RESEARCH APPRECIATION DAY
College of Education in the News
Overcoming Barriers: Killdeer Coach & Native American Reflects on Leadership
Chad Dahlen, head coach of the Killdeer (N.D.) Varsity Girls Basketball Team and rancher, holds a Ph.D. in leadership from UND. Article by Jackie Jahfetson, The Dickinson Press.
Published Alumni
Jacob W. Disterhaupt
Jacob Disterhaupt and co-writers John S. Fitzgerald, Jesse L. Rhoades, and Grant R. Tomkinson examined the relationship between the digit ratio (the relative length of the index and ring fingers) and vertical jump performance in NCAA D1 football players.
Read the Study published in the American Journal of Human Biology.
Bridget Pinoniemi
Bridget Pinoniemi and co-writers Grant R. Tomkinson, Tanis J. Walch, James N. Roemmich and John S. Fitzgerald showed that the muscular power of American kids improved between 1911 and 1990, which may reflect corresponding improvements in general health. Unfortunately, no recent data are available. Because muscular power is simple and easy to measure using jumping tests, we encourage researchers and teachers to monitor kids' health through the routine assessment of jumping ability.
Trevor Dufner
Sports Medicine publishes research with UND graduate student as lead author.
Joe Derouchey
How hard is it to pick the next Usain Bolt, Ian Thorpe or Anna Meares? Finding a world champion often falls to talent scouts and involves years of hard work, but could it be as simple as a 35-second body scan? Congratulations to former UND Kinesiology Graduate Student Joe D. Derouchey.

Faith Dooley
Congratulations to a former UND Kinesiology Student and volleyball/basketball standout, Ms. Faith Dooley, on publication of her first peer-reviewed journal article in Sports Medicine.