CEHD Student Resources
Message from the Chair of Education, Health & Behavior Studies

Message from the Chair of Teaching, Leadership, and Professional Practice

UND Healthy Hawks

Follow the Healthy Hawks Smart Restart blog for all UND campus announcements.
CEHD & You
It's true - we are back on campus! Enjoying face to face and online learning, our current times require us to demonstrate flexibility. Thanks for being flexible and safe.
The College of Education & Human Development is committed to the safety of everyone on campus. With faculty, staff, and students sharing the responsibility of "Reasonable Actions" in promoting the safety of all, staff and faculty are working remotely and on-campus. Join with us in having a safe campus, safe classes, and safe you.
Communication
Keep up-to-date with UND's COVID-19 Blog & CEHD webpage.
Share with us Questions or Concerns!
Free Testing available COVID-19 Testing
Check out the student newsletter - Student Life Weekly
Community Considerations
Social Distancing is key!
Demonstrate Wellness Behaviors.
You make the difference for CEHD!!
Healthy Hawk CEHD Leaders encourage others to make smart wellness choices for the good of the entire university.
Face Coverings & CEHD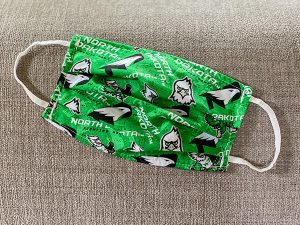 To support the health and safety of the campus community, UND has determined that face coverings will be required while on campus, including dining centers and retail stores.
The policy states that face coverings are required unless eating or drinking. Everyone is encouraged to only remove their mask when they can maintain an appropriate social distance of 6 feet apart.